About us
Alex Nikolo
Alex Nikolo, a Bulgarian designer and artist is now presenting you his unique handcrafted horn jewelry. He offers everyone a chance to see the natural pastel colors of the traditional bull and cow horn and to feel the warmth of the material. He and his team turn rough material into elegant pieces of jewelry by creating nature-inspired designs and handcrafting them into pieces of jewellery. Alex regularly scours the globe for the latest styles and trends to offer his clients the most elegant and stylish jewellery collections. We offer different pieces for every taste, age and occasion. From elegant and simple to rich and dazzling. And every single one has a story behind its creation. Since 25 years of designing and hand-making masterpieces, Alex Nikolo is now turning our one of a kind Bulgarian jewellery store into an online shopping experience.
About Horn
The horn consist a keratin covering and other proteins. Keratin is often used for cosmetics such as innovative cremes, skin and hair treatments. It makes your skin and hair smooth and soft. Wearing our natural jewels from bull and cow horn can give positive results to your skin. This material is not supposed to cause rashes and skin problems, as it is 100% natural and eco.
Alex Nikolo does not harm animals in any way. Many people in Bulgaria raise cows and bulls for their meat and milk. Those people are our suppliers.

About our horn jewelry
Every horn has its unique colors, which are inimitable. That means that every jewelry has a different color and is unique by itself. So, even if the design is copied, you surely be the only person in the world having that jewelry in terms of colors.
Horn is very tough and elastic material. Our jewelry is not easy to brake and if you treat them nicely they will last for a long time. Here are a few little tips how to treat your unique accessories: https://www.madeofhorn.com/jewelry-care-advice.
Our jewels are made with silver, gold, medical steel and other metals. We do not use any materials that hurt the skin. If you are allergic to any specific material, please contact us before purchasing. Alex Nikolo can change the parts with some other material. 
Our handcrafted horn jewelry is incredibly light. So, you can say goodbye to heavy and uncomfortable jewelry, which heart your skin and ears.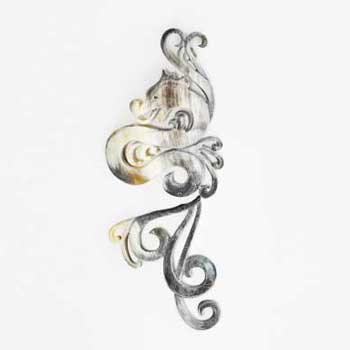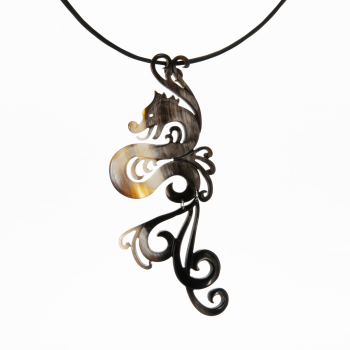 Every single piece of our horn jewelry is unique. All of them are special and every design has a story on its own. The jewelry are appreciated by people who see the aesthetic beauty of nature and hand work. Nowadays, everything is made by factories and machines. I am so happy that there are many people who recognize the full worth of our jewelry and I am pleased to share my work with the world.
About You
We aim to bring our fun, easy, secure and hassle-free site to you. We know our customers are savvy, smart shoppers, so we pride ourselves on delighting them every single day with special gifts, new collections and low prices. Whether you are looking to sparkle with a new perfect accessory or for a unique special gift, we have got you covered, delivering to your satisfaction.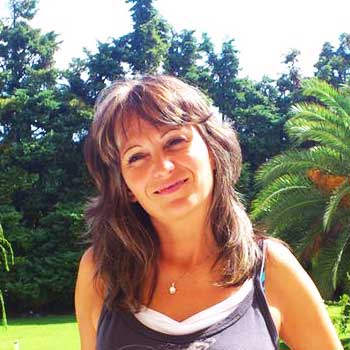 I didn't expect that these jewelry are so light. Since I recieved my first pair of earrings, I wore them every day. And sometimes I even forget I have them on! The material is unique and I feel really special. I have my casual pair of earrings for everyday use, and other more elegant models for special nights.
Especially nice handicraft. Unique. Horn as material is charming!
Уникално красиви бижута ! Изключително отзивчиво отношение към желанията на клиентите, професионализъм и талант ! Благодаря Ви и Ви желая успех ?
About our Shops in and outside of Bulgaria
We offer our unique jewelry in three sea resorts in Bulgaria (Albena, Golden Sands and Sunny Beach.) We have six different shops, which are opened only during the summer season in Bulgaria – from May until the end of September. Our jewelry are also offered in a bio-shop "Harmonia" in Alex Nikolo's home town – Dobrich. This winter, from December till end of March, you can find us in the Bulgarian winter resort Borovets, in Hotel "Rila".
We often participate in some Christmas and Easter markets and handmade fairs in Europe. Every year, we take part in two markets Austria, Vienna (in Schloss Neugebäude and MuseumsQuartier). 

If you are interested to know where can you find us next, subscribe to our monthly newsletter, where we put detailed information.
Below, you can look through some pictures of our stands in and outside of Bulgaria.
in Albena, Bulgaria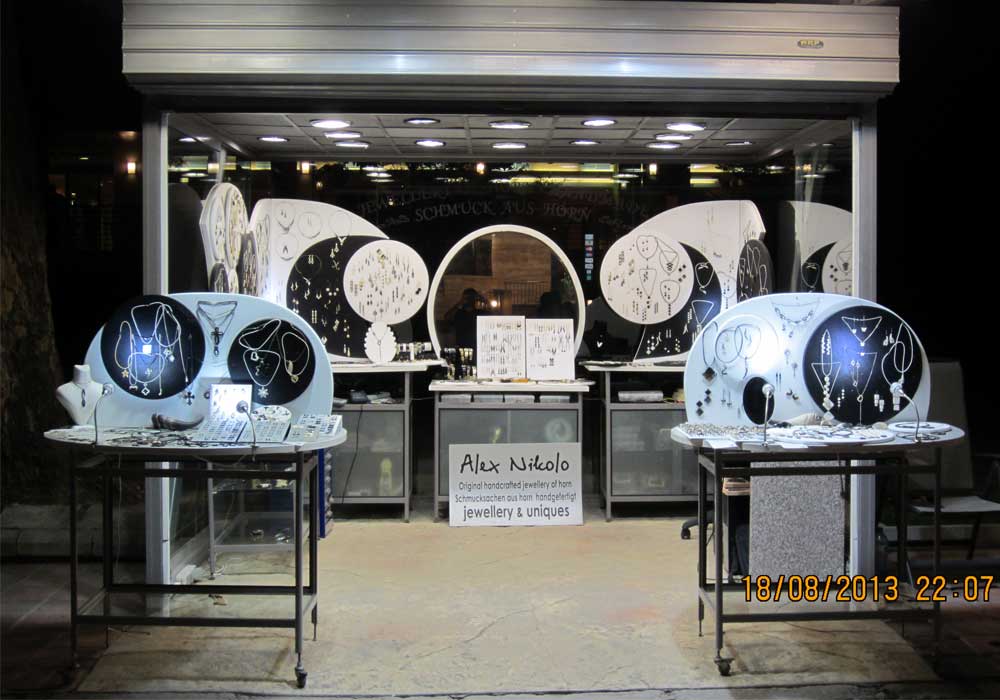 in Albena, Bulgaria
in Florence, Italy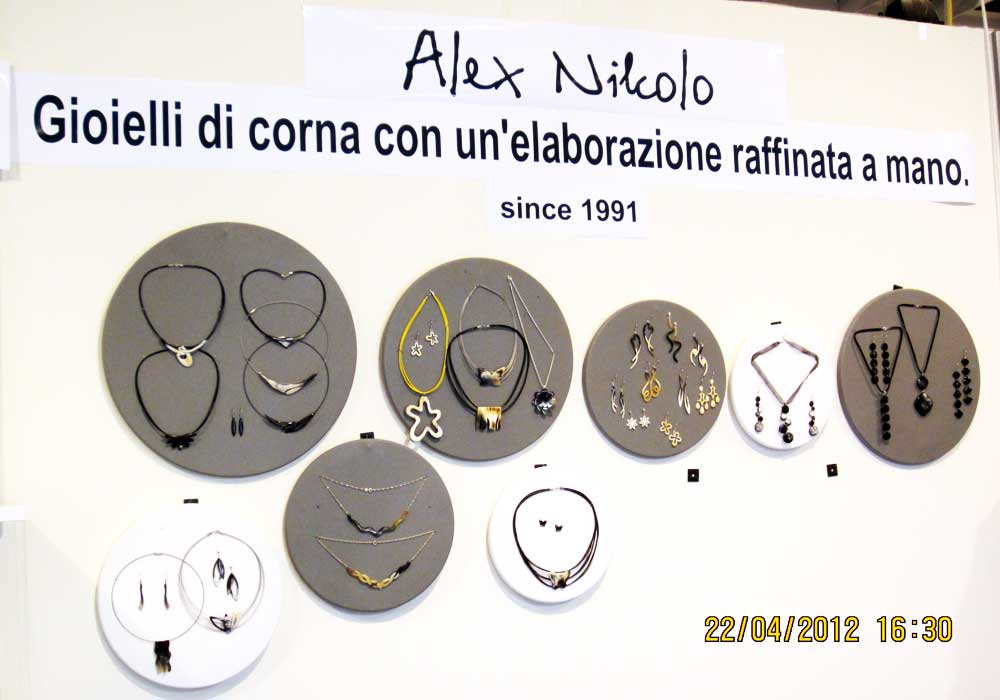 in Golden Sands, Bulgaria
in ski resort Borovets, Bulgaria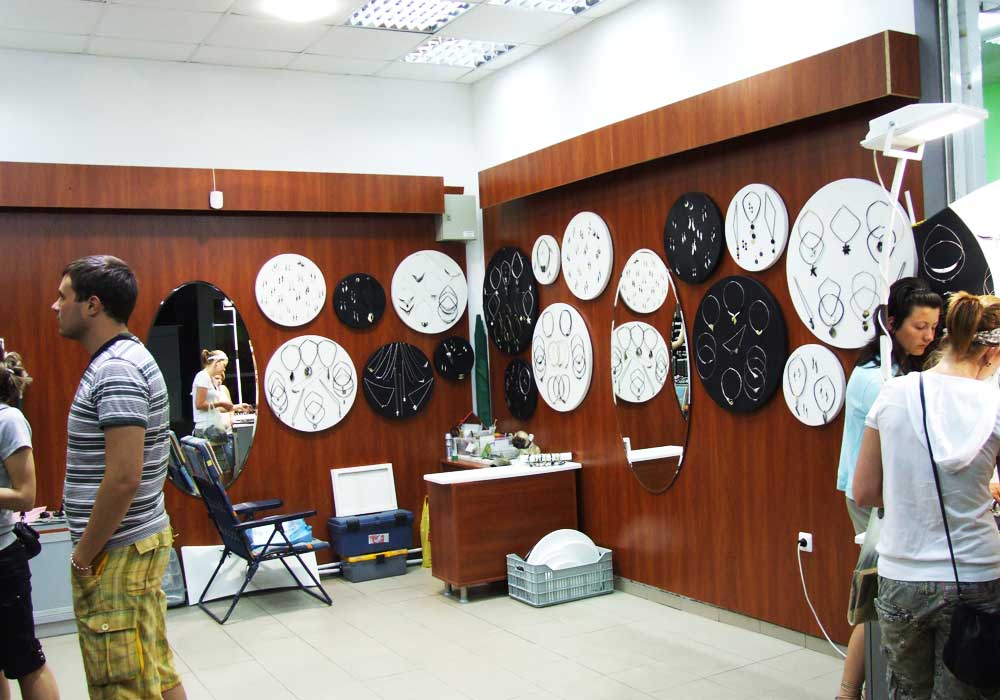 in Vienna, Austria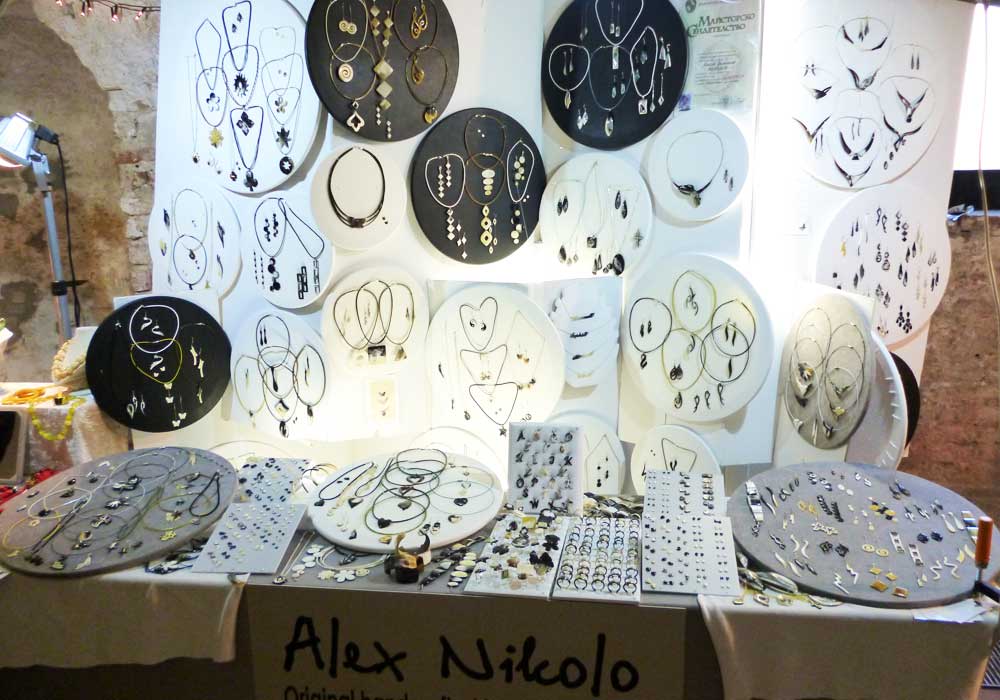 Our history in pictures
Alex Nikolo makes people happy with his handmade horn jewelry since 1992.
It all started when he decided to surprise his wife for her birthday with a very special and unique horn necklace. And he has not stopped since. Here is what he says about the very beginning: 
"I remember my first atelier. It was very small and hardly had any equipment. I literally started from point zero. I did all my myself with the loving support of my wife and family. I can't say that it was easy, but when I started selling the jewelry, I was so happy. There is nothing like seeing someone appreciating your work."
Below you can see some old pictures and precious memories from the time he and his wife had just started to share his beautiful art.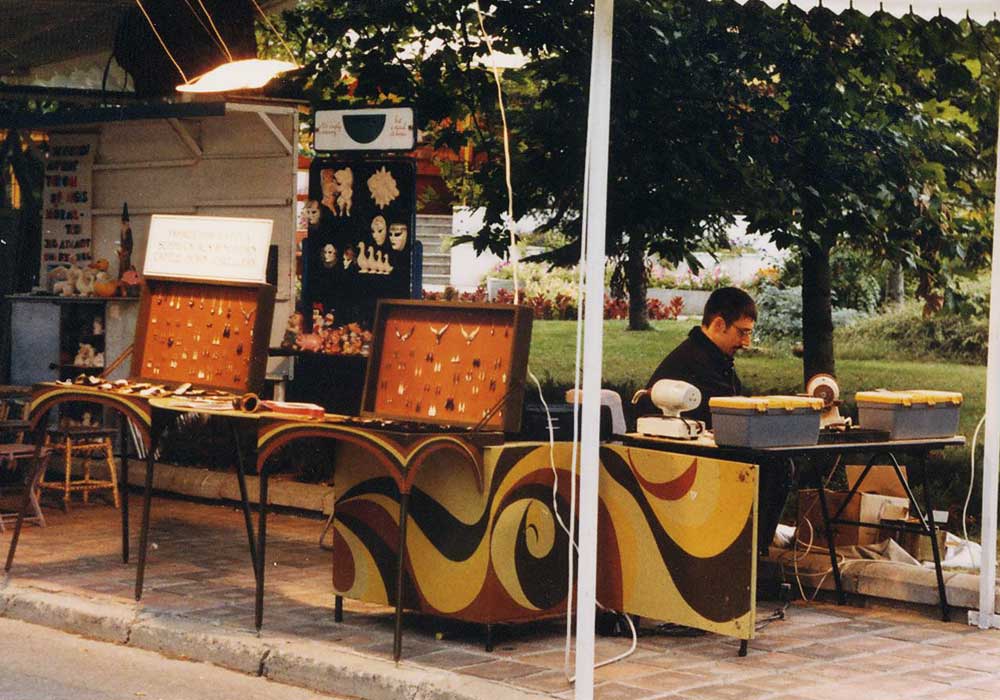 If you would like to read more about how everything started, you can check out the interview with Alex here.